Hits: 129
Since I knew exactly what statement I wanted on my new hat, I figured I make my own letters, and type them with a textile pen.
On my laptop I typed the statement "Jesus reigns" in the word processor and hit the button "print".
Then I took a sheet of plastic see through paper over the printed paper, and with a knife (scalpel) carefully cut out the letters.
With needles the sheet was attached on the hat.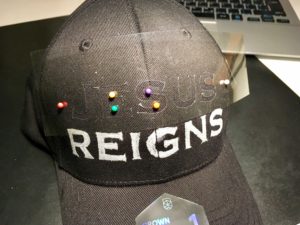 Strokes of a silver pen for fabrics, did the magic and voila, a one of a kind hat that rules!
Not sure if I will use a finer black pen for the outline of the letters, to make them sharper. We will just have to wait and see tomorrow when the ink is dry, if we need some improvements.