Hits: 2771
My childhood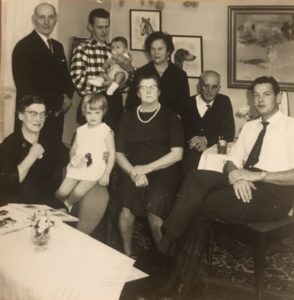 I was born in a non christian family in Sweden. We grew up in a small village on the countryside. The connection we had with church and Christianity was to go to a church building for baby baptism, Sunday school, youth confirmation, weddings, funerals and for Christmas in the State Protestant Church.
We got hymn books and Bibles but we never read them or talked about Jesus at home.
I recall my father use to pray the Lord's Prayer before me and my sister went to sleep. But there was no Jesus who had taken root in me.
My father was my first love, I knew I loved him. But when I was seven years old, three months into first grade, he left home. A week later they found him dead at the same place he met my mother for the first time, at an outdoor dance venue.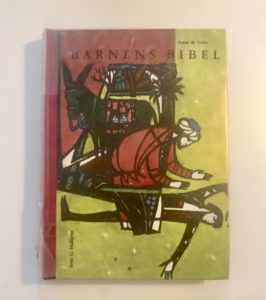 At Sunday school I got a children's Bible written by Anne de Vries.
Still I remember the stories and the pictures and today I'm very thankful these were planted in my early childhood. Especially since Jesus and the Bible is taken out from the classrooms nowadays and because many parents today are atheists.
I know for sure my aunt and grandma was believers who read the Bible and prayed. Further back some of my ancestors helped build a church. So there was Christian belief in earlier generations in my family.
My 1st awakening
In 2010 I had an awakening. The realization was that some things are not what they seem to be in this world. I realized we had been deceived and lied to. So I started a search for the truth and tried to find out what the lies were, and why. Cui bono? Who benefits?
Little did I know this would lead me to a saviour; Jesus Christ.
"- What is truth?" asked Pilatus, when he stood in front of Jesus, not realizing Jesus is the Truth and the Light in this world.
Many truth tellers are Christians. They have a quest to understand the times we are living in. I started to read their blogs and I took my time to think and meditate over circumstances, situations, life in general and questioning how the world history have been told to us. My conclusion was that the world powers are evil, they have a hidden agenda and their ways are destructive to mankind.
And we are all collectively together in the same boat. Many have bought themselves into this Babylonian/Egyptian system which benefits them in one way or another.
I went through something called cognitive dissonance which is a mental stress disorder (gives you great discomfort) when my previous beliefs, world views, ideas, and values – contradicted the new ones I started to have, due to this research of "truths". I could no longer hold on to my old attitudes, thinking, plane for the future e t c.
A human psyche can't simultaneously hold two or more contradictory beliefs. That's why many stick their heads in the sand, flee or defend the lie, even if they know they are probably wrong or lied to – because the truth is almost impossible to bear.
Its like when someone told you that your loved one is cheating on you. At first you probably can't believe it. But then a mental process starts, a mind battle. You try to put all the pieces together to find out what is the truth? How can it be? How can I build my understanding of reality that is u n s e e n and how can I trust someones w o r d s?
If and when you realize you been lied and cheated upon, most of us get so sick to the stomach that we almost want to throw up. That's often a troublesome process. Many of us can't stand the consequences of this revolutionary new information and how it would affect us. So we prefer to continue to live in a bubble, in a fake life and in a world of lies and in denial.
Someone said its easier to trick/fool/lie to someone, and much harder to explain to that person, that he have been exposed to a lie. That's how magic works.
My 2nd awakening
Most importantly in my awakening process, was that I invited Jesus into my life in early 2012. I call that my 2nd awakening, after my first awakening when I realized there is an evil agenda for mankind.
When I questioned the reasons for immigration and the consequence thereof, how the massmedia reported and when I looked into Islam and compared Jesus with Muhammed, then for the first time I started to really admire Jesus and appreciate the christian values. We have so many reasons to be thankful for being born in a christian nation (now sadly declining but according to prophecy).
Without knowing any christian believers or going to church, I confessed Jesus as my Lord & Savior in January 2012, and I did it in a Skype video with a pastor from the US. "Now you are saved!", I was told. But shouldn't I be joyful, or at least feel a difference? That was my instant thought. To me salvation was synonymous with happiness. But I didn't feel happier or different.
When I later read Bror Espegren's blog called Frikyrka.se – I realized (thank you Jesus!) I had to be filled by the Holy Spirit. I needed the baptism of the Spirit. A inner change had to take place but that was a mystery to me at this time. That's was what this street evanglist Espegren emphasized on his website over and over again.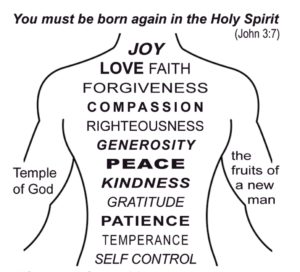 My born again experience
In late of May 2012, I woke up in the morning. And I just knew, if I open my mouth, something will happen. Didn't know why, but had an inner knowing. I said three or more times; "- Jesus fill me with the Holy Spirit! "
And I was instantly answered, in a blink of an eye, the Holy Spirit came into me. I started to speak in tongues and it sounded exactly the same as when I once laid in my father's bed and played with his hand (a memory that have stuck in my head 40 something years later). Right away I noticed there was no sense of time. And I couldn't move my body! What is going on I thought, I just prayed to Jesus!
I don't know how for how long I laid there in my bed, if it was for 1 minute or 1 hour since I was in a state of eternity. I just couldn't move or control my tongue who sounded like "Gagagagagagagaga". Later I realized I never inhaled ant breath during this time when I was like frozen.
After a while I felt my throat started to feel sore, and my thought was whatever is going on, I felt I can't continue much longer. And as quickly it had started, as quickly it stopped.
Being able to move again, I went out of my bed to quench the thirst I had, but I was only able to take a few steps before my strength left me and I fell down on both my knees, my head touched the floor and I just cried my heart and soul out load. Not knowing why! My main concern was that what should my neighbor think if she heard me crying like that.
That was the happiest, weirdest, most supernatural and amazing thing that has ever happened to me. I felt God's love during this day.
That day I said to myself, "if this is how it's to be with God (being filled by His Spirit and his Love) I take that any day in the week" (meaning forever).
My baptism was just right for me, it was perfect, suited for my needs and for my future, by His Mercy and not by my own works.
From that day, I am now a partaker for eternal life, an inheritor to the Promised Land. Wow!
For the next two years I went deeper in the Bible and watched many Bible studies on Youtube. I stopped working and have not worked since. I still didn't go to church nor meet any Christians at this point.
August 2014 a friend told me about a Danish guy who healed people in the streets. I contacted Torben at TLR who sent me to Peter Ahlman who told me about a new convert; Martin.
He kickstarted me by taking me out to pray for legs to stretch out by praying in the name of Jesus. I was skeptical at first if this really works. But it did! People got healed and set free! That was a boost for my faith, as much as my own baptism in Holy Spirit had been. We started to go out evangelizing and we prayed for a lot of people.
In 2018 I went to TLR Luke 10 school, together with Laurna, who is now my precious wife. Together we started a new chapter in our life in 2019.
My advice: Seek the Kingdom of Jesus first, and all other things you need will be given to you.
If you want to understand this world, or the Bible, or to know if there is a Supreme God – don't go around searching all over the place! Its a waste of time. Stop!
You wont find the Truth in Islam, or in the Roman Catholic church, or in Hinduism, or in new age meditation or in yoga.
It all starts when you open your door to your heart to Jesus.
And you will not go to Heaven just because you think you are such a good person, better than most others.
Being more good than evil is just not good enough. God has a higher standard, since He alone is HOLY, meaning He is perfect.
You need to ask Jesus into your life, with a humble and repentant heart, and you need to be born again in the Spirit of God. That's the change of direction you need.
Then let the Holy Spirit lead you into a holy and godly way of life, called sanctification, where you become more Christ-like, sealed by God in His Character and Image.
PS. You are always welcome to write to me: "aboutme@bread4life.eu"
"Search no more, there is an answer
In this world of doubt and fear
He has come to lift your burdens
You will find your comfort here
Come to Jesus just as you are
Broken and scarred, come to Him
Love and mercy for every broken heart
He is waiting with open arms
Come to Jesus just as you are
For the pain, that's left you broken
He will give you peace today
Every tear, you've cried in sorrow
He will wipe them all away
Come to Jesus just as you are
He's waiting …
Love is waiting …
Joy is waiting …
Peace is waiting …
Jesus is waiting!